Free Care
We can offer free childcare to all 3 year olds and 4 year olds and too some 2 year olds. We are very flexible and can accommodate to your needs as to how you wish to use your child's free entitlement.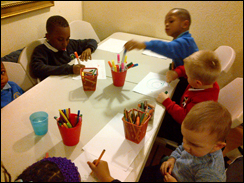 The 15 hours free childcare time being flexible can be used over 2, 3, 4 or 5 days per week. We can offer the 15 hours to suit you and your needs.
You can spread the 15 hours per week to cover the school term period (38 weeks per year) or even stretch it to cover up to 52 weeks.
IMPORTANT:
The 15 hours are for in-house care only.
Monday to Friday. Anytime day or night. Exluding National Holidays and Weekends. If you wish your child to be in our care for extra hours (over the 15 hours), you will need to pay extra for the additional hours.
Also if you need home / school / nursery pick-up and drop-off you will need to pay extra for this service.
30 Hours Free Childcare:
The government has committed to doubling the amount of free childcare from 15 to 30 hours a week for working parents of three and four year olds from September 2017.
Care Timings
Full day care,
Monday to Friday
Anytime day or night.
Check our opening hours.
Home Pick-up/Drop-off Service
We can offer a home pick up, drop off or both service. If your home is beyond our coverage area, we may still be able to pick up, drop off or both but will charge extra.
View the area that we normally cover for homes.
View the area where we may still be able to cover for homes. You can discuss this with us at the time of your child's registration
Contact us today! or register your child with us.